Trade in your old Paramo at Jo Royle Outdoor.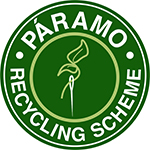 Get £50 OFF your new Analogy garment when you trade in your old one. Simply bring it in (preferably laundered) to Jo Royle Outdoor in Buxton and trade it in…….
Páramo is always looking for the path of least environmental impact. The Páramo Recycling Scheme is our way of providing a safe route for disposal of unwanted garments. We'll take back any Páramo product (except underwear), and either find it a new home, or recycle it into new fabric. As a reward for your effort in getting old gear back to us, you can expect a generous discount on new Páramo products.